6 Reasons why hiring an Event Hostess can be crucial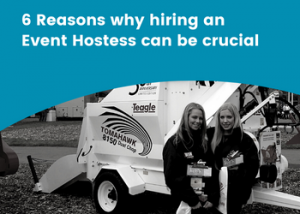 Organising an event is hard work. Make life easier for yourself by hiring an Event Hostess from Dreams who can represent your brand, and make your event a success. They can take away a lot of the stress and hassle on the day, as well as organising and dealing with staff.
There are six very good reasons why an Event Hostess can play a crucial role in ensuring the success of your event.
Dreams Event hostesses are specially chosen
We personally interview every Event Hostess to make sure they have the right qualities for the job. They have to be professional, well spoken and very experienced. We hand select each Event Hostess to match them with an event, to ensure that they match your exact requirements.
Dreams Event Hostesses make events run smoothly
Whatever the event, there is always the possibility that things will go wrong. For example, equipment may not work properly or promotional materials are delivered to the wrong booth. Even worse, you run of coffee just as important visitors arrive. That is where a Dreams Event Hostess can step in and deal with problems, before you even realise a difficulty has arisen. You are able to concentrate on the important aspects of the event, without any distractions.
Dreams Event hostesses are trained and experienced
Every Event hostess is fully trained, experienced and ready to start work on arrival. Dreams Event staff are among the best in the business, and can deal with anything. We only ever choose the best people for our clients.
Dreams Event Hostesses provide business information
Visitors to an event want information. They ask questions. If they don't get the right answers then they will go elsewhere. Our event hostesses have done their homework and are fully conversant with your business before they even arrive on the stand. That means they can engage with visitors, provide information, shown suitable products and directed to most appropriate people in your company.
Dreams Event hostesses are totally professional
Hosting an event means your business is on show. Creating the right brand image is crucial. An event hostess ensures your stand is totally professional in every way, from talking to guests to demonstrating technology and products. Trained in data capture, and possessing proactive attitudes, event hostesses ensure that no business lead is missed.
Dreams Event hostesses provide that extra, indefinable quality
From the start of the day to the end of a shift, a Dreams Event Hostess is on top form, full of energy, enthusiasm and charisma. They possess that extra, indefinable quality creating a perfect brand image.
Contact us now to see how we can help you with your next event. You will not regret it!