Are you in need of some reliable and dependable staff in the Cheshire and North West area?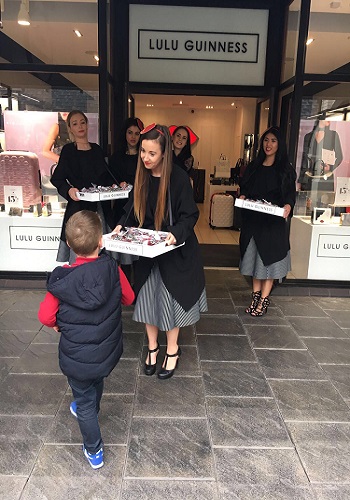 We have been providing consistent temporary staff for 10 years. Not only do we have the experience, but we have the knowledge and the desire to build relationships and help you make your event a huge success by getting your message out there!
All staff we provide have a huge amount of experience in numerous events for all different kinds of businesses who are looking to promote their products, brand, merchandise or simply need a helping hand to get the word out. We have a vast range of brand ambassadors, promotional staff and stand hostesses all throughout Cheshire, including Chester, Warrington, Congleton, Crewe, Ellesmere Port, Widnes, Runcorn, Macclesfield, Winsford, Northwich, and Wilmslow.
We have provided staff for Cheshire Oaks, one of the most popular designer outlets in the country. The best thing about using these methods are you can really target demographics that are specific to your brand.
Are you looking for some bubbly and enthusiastic event staff for Creamfields, Chester Races or Neighbourhood Weekender?
We regularly provide event and hospitality staff for festivals and big events such as Creamfields or Cheshire Fest. We have a unique, dedicated and professional team of models and brand ambassadors that help you with product placement or even handing out samples. As you are promoting your business, you want someone confident with the relevant background who can assist in all aspects and have no problem going the extra mile and this is certainly something we can help with. Event staff for festivals can be used for many duties, some of these may include.
Hospitality staff to help with bar work and managing high demanding queues
Brand ambassadors to chat with attendees about the product, offering samples, and increasing awareness about your brand
Event staff to scan tickets and issue wristbands
Bartenders and cocktail makers
Event managers to give you peace of mind and ensure everything is running smoothly
In store demonstrators and flyer distribution staff in Cheshire…
One of the most popular forms of advertising and promoting your business is by using flyer distribution, demonstrators and sampling staff in and around stores or big venues where the crowds are diverse.
To discuss hiring some incredible staff for your event, give us a call on 0844 740 7056 and we'd love to assist!