Event staff for exhibitions, events and trade shows as we ease back to normality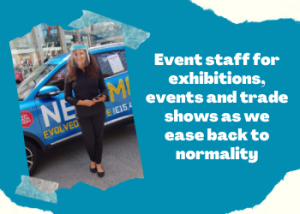 From March 2020 through to the summer of 2021 the events industry has pretty much been closed thanks to COVID-19. Conferences, award ceremonies, exhibitions, trade shows and many other marketing events simply stopped.
Now, as we ease ourselves back into a version of normal, events are looking to open their doors again. But what will events in the forceable future look like? Hiring promotional staff to work with you at an exhibition will still of course be a requirement, but what will change for exhibitors and event staff working at shows across the country?
Promotional staff, Brand Ambassadors, hostesses and event staff will have to have an idea as to the rules at any particular time while working at an event or an exhibition. This might be simply reminding visitors about the importance of social distancing, pointing out hand sanitiser stations or asking people to wear their face masks.
Its likely that at the very least these three simple rules will be with us for a while…. Hands, Face and Space.
Hands – We all know the message and the benefits of cleaning our hands more often and for longer. Exhibition and Event staff will have understanding of the best practice guidance to offer event visitors and feel confident to share the message loud and clear.
Face –  Wear a mask. Covid spreads in the air in tiny respiratory droplets that carry the virus. Masks reduce the spread of the droplets which means if a person is carrying the virus they are less likely to spread it when they exhale. Promotional staff are the friendly face of an event to politely remind people to wear their face coverings.
Space – Observing the social distancing rules has become a way of life but that is because of the messages that are given to us all over the place. Thing is, people still forget. This is why event staff and covid control marshals have such an important role to play as events start to open across the country.
What new covid safety measures are being introduced for the events industry
There are likely to be changes as we enter each phase of the lockdown measures being eased. For the events industry its looking like visitors will have provide evidence of a negative Covid test result from a lateral flow test within 24 hours of the start of an event. The social distance rule will be relaxed but a venue will still need to limit the number of people attending an event. Face masks are likely to remain.
Dreams Agency – Open for business
No doubt these are strange times that we are all living through and the events industry has been brought to its knees. There is now a chink of light shining bright and the events industry will soon be in a position to open its doors far and wide.
Dreams Agency, a specialist in providing event staff across the UK, has managed to pull itself up, dust itself down and is now ready to provide promotional teams at events across the UK when it all opens up again.
Good times are coming. Support the events industry.
To learn more from Dreams Agency call 0844 740 7056 or pop us an email here!