Ever thought of becoming a Brand Ambassador?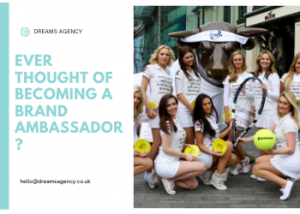 Brand Ambassadors are in demand at all kinds of events and promotional activities. Make your profile stand out so that you are among the first to be chosen by clients.
Join the 'Dream Team'
Dreams is one of the top promotional agencies in the UK and we provide staff for prestigious events, exhibitions, conferences, corporate events. To join us, you need to fill in our online application form here (we are part of the Envisage Agency Group). This is then reviewed by our Recruitment manager and placed on our database.
Take your time to fill in the form carefully. Remember it is your chance to stand out and be instantly memorable.
How to make your application stand out!
Check all your answers carefully. Make sure there are no mistakes and that you have not overlooked anything.
Upload a good, clear photograph which is appropriate to your work. It needs to be clear, forward facing and show you smiling. The photo needs to be professional, not a general family or jokey image. You can include some pictures showing you at work on a promotional campaign, but the headshot is the most important element to include.
Remember that these photographs will be seen by potential clients – they will judge your appearance and professionalism on these images.
Personal measurements must be accurate. We need these measurements to ensure that you are provided with well fitting uniforms. Most importantly, you need to provide details of your shoe size, height, chest size and trouser size.
Take a careful look at the section marked Experiences. This is your opportunity to ensure that you mark up all the activities you can do, and the sectors in which you have experience. Don't miss anything that is relevant – after all, it could mean missing out on a potential job.
Add in any relevant training and qualifications you possess. This could include items like First Åid certificates, Food Hygiene certificates, DBS checks or Fire Safety training. Brand Ambassadors may be dealing with food during an event so possessing food hygiene qualifications is important. You could consider taking some extra training to get appropriate qualifications.
Give a detailed outline of your work history. This is very important. It tells us where you have worked, what you have done, the experience you have gained, and the amount of responsibility you have had in each job. It also indicates the type of brands with which you have been associated and helps us match you to appropriate bookings.
Even if you are new to the industry, it is worth filling in the form especially if you have some kind of customer facing experience such as working in stores or in catering.