Get The Most Out Of Your Virtual Events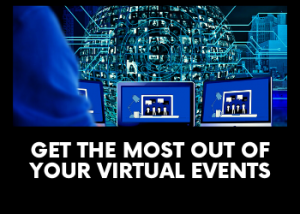 With different tiers and restrictions being announced all the time, it is important that any event is prepared to adapt and keep up. None of us knows exactly what the future holds and so, for any business to be successful you need to be prepared for all eventualities. With regards to events, it seems that for the foreseeable future virtual events are going to be the way forward.
Held correctly these can be a great way to reach a large number of people and promote your business to people who really matter.
What Does A Virtual Journey Look Like?
We're all at different stages, but that doesn't mean we can't adapt any event to be a virtual one – and make it a success.
• Webinars – These are great for short, quickly arranged events, going virtual at short notice. You can use slides and content you were planning to display at your event to create something virtual.
• Experiences – If you have time, or you've already held a webinar than inject something fun into your virtual event; you could incorporate something interactive that gets people involved.
• Conversation – It is all well and good showing people what you can do, but you need to give time for conversation. Book-in calls and talk to them about what your product can do and how they can benefit.
• Balance It All – In all honesty, for your virtual events to pack the biggest punch, using a mixture of all of these is highly recommended.
The Importance of Conversation
You need to keep people interested, which can be harder when they are just sat in front of a computer screen. However, for them to really understand the passion for your product you need to talk to them.
Conversations can be varied and you can use things such as roundtables, where several people join a group chat and you discuss a chosen topic.
Think-Tank sessions are also popular, where people listen to experts in the subject matter with an option to ask questions at the end. Even things like speed networking events can be a good way of getting everyone involved.
Of course, you can also go back to basics and simply pick up the phone and talk to people. There is a lot to be said for the art of conversation and that is definitely something you should take into account when you're considering ways to interact with people interested in your product.
Hire a presenter or host for your virtual event!
If you need someone to manage or compere your virtual event then we can help. We have a database of over 7,000 staff including presenters, actors and hosts who are experienced in virtual and face to face events and can give your event a bit of something extra special!