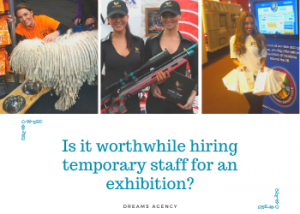 Is it worthwhile hiring temporary staff for an exhibition?
If you have a stand at an exhibition or a booth at an event then its likely crossed your mind if you may need extra help.
Simple answer to that question is yes, you will need help.
Talking to visitors to your stand, attracting them over, selling your services, engaging in conversation, managing people waiting so they don't leave your stand is a lot to organise. You then have to think about making refreshments, looking after stock and who will look after the stand when you need a break!
Right, so there it is, you know you need help.
But then, you have the question…who can I trust? Who is going to be as good as you when it comes to selling or promoting your business and its service?
You need to speak to professional agency. Not a recruitment company, but an agency that actually specialises in providing temporary staff at exhibitions and events is what you need.
There are some key things to look out for when contracting the services of a promotions agency. Little nuggets that will demonstrate they can not only help on your stand but actually make more sales and make better connections…
• Do they provide promotional staff across the UK?
• How long have they been in business?
• Will you have the opportunity to review the staff, see images and consider their experience?
• Does the agency have staff available in the area you are exhibiting (you don't want to have to pay for additional travel expenses!)
• Will they provide backup staff if the one you have selected is unwell and able to attend?
• Find out how the agency briefs the staff. This is so important because you want to be confident they know your business and can hit the ground running.
• Do they have a process for managing the staff arriving on time each day?
• Will the agency provide an account manager that will look after you throughout?
If you speak with Dreams Agency then you will be in good hands. All the questions you need to be asking above are a massive tick.
Hiring exhibition and event staff from Dreams Agency
Dreams agency has been providing temporary staff at events and exhibitions for more than 11 years. You can hire exhibitions girls that can deliver pretty much anything you will need on your stand….
• Data capture & lead generation
• Sales
• Hospitality
• Product demonstration
• Set up and pack down
You can even hire models, actors and costume performers!
To get in contact with Dreams Agency and learn more about the staff they can provide for you call 0844 740 7056 or pop over an email.