The 4 Biggest Mistakes that Exhibitors Make When Hiring Promotion Staff. How do you avoid them?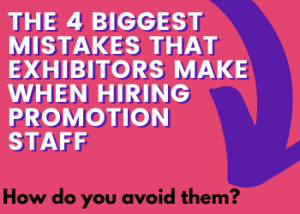 When you do not have the right promo staff behind your brand, everything from your sales to the customer experience can be negatively impacted. By working with a quality, reliable and experienced promotional agency, you can hire people who are exceptional at what they do.
Hiring a promo staff member or team to engage with potential customers and make a huge first impression is something that will drive customers back to your brand.
Avoid these 4 mistakes that exhibitors make, and you will be passing with flying colours at your next event!
Mistake #1: Hiring staff based solely on their appearance
Depending on what type of staff you are hiring, you typically should not hire staff based on appearance alone. If you are an acting/model production company then hiring staff for these purposes are recommended and of course you will have your own idea of who's "look" will fit your style of shoot.
When you hire staff, your main intentions should be about results and the staff being "very attractive" does not always mean that they have the correct and relevant experience to do the job to a high standard. You can always contact Dreams Agency for suggestions on staff.
Mistake #2: Waiting until the last minute to hire promo staff
Waiting until the last minute to hire your staff can negatively impact your success at a trade show for many reasons such as:
• Staff will not have enough time to learn about your brand.
• Top agency staff members will be booked up.
When you book your staff with plenty of time before the event start date, it allows the staff to understand your brand and message you want to put across to the public. If there is a script for the staff to learn, they should receive it a minimum of four weeks before the event. At least one week before the event, they should have a detailed schedule that includes contact information, addresses, dress code guidelines, job roles and objectives. This will ensure the staff you have will be able to perform to the best of their abilities.
Mistake #3: Choosing the agency that costs the least
Spending the bare minimum when you want to hire a service is not always the best thing to do! Of course, if you are on a tight budget and you need costs to fit within it you would go for the lowest possible cost. If you wanted to get your car cleaned, you would go for the service that was slightly more expensive as you would expect a better service. Hiring promotional staff is no different.
Think about it – if an agency is charging a low rate, how much could they possibly pay their staff? How motivated and interested will underpaid staff members be? When considering a promotional staff agency, the price point should only be one of the deciding factors. Paying a cheap rate might save you money now, but you may not get the results you expected.
Mistake #4: Not communicating with the promotional staff agency
Laying out your plan and details of your event to an agency straight away is one of the easiest ways to get the ball rolling. Contacting an agency and explaining all the details including: Dates, times, location, how many staff and what the event details are, will allow the agency to work efficiently and be able to source the suitable staff for you.
Good Agencies will be able to provide profiles of staff members for your selection, this way you can pick the staff that you think would most suit your event yourself!
Do you want to hire promotional staff?
If you have an upcoming or ongoing event and need reliable and experienced promotional staff, then make sure you do not make the above mistakes. Simply call us on 0844 800 0071 or pop us an email to discuss further.