Tips for becoming a catwalk model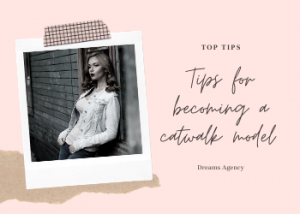 Have you ever pondered what it takes to become a catwalk model? Well, here are our top 5 tips for any future Naomi Campbell listening!
1.
Modelling Agency
You need to register with multiple modelling agencies and promotional agencies. The more agencies you register with the better chance you have of finding work and having that all important "Break". Most modelling agencies will have an application form that you can fill in appose to sending a CV. Registering with Dreams is Free.
2. Modelling Portfolio
Put together a professional portfolio with professional pictures. Include a mixture of pictures, without makeup shots that are unedited are essential. Make sure you include an up-to-date CV and send this along to the modelling agency along with the professional pictures listing any relevant experience that you have. ALERT – Do NOT include photos of you on nights out, glamour photos, pouting or selfies with busy backgrounds as these will detract from the professional image you wish to portray.
3. Be a reliable Model
The agency that you have registered will look at getting you work. The moment you get that call for a shoot or fashion show you then must be 100% professional and reliable. Its true that a bad reputation is much easier to get than a good one. With an average of 10 applicants for every job, you must be reliable. If you are late or worse fair to attend the agency is unlikely to use you again as you are representing them as well as yourself.
4. Enjoy it!
Modelling is a job like no other. Each day represents a new and exciting adventure for you to grasp with both hands. It's a desirable industry to work in for good reason.
If you have an event coming up and would like a full quotation and to receive a shortlist of available staff, then please click below and tell us your requirements and we will provide an instant quotation.
Or if you would like to register with us, please click here to submit application.